Cloud Enablement & Data Engineering
Verudix enables enterprises to harness power of cloud with guided 4-D framework to define, design, develop & deploy a comprehensive cloud strategy to align with client's business objectives, security & cost management etc. Cloud enablement includes technologies such as data, analytics, machine learning, AI, IoT, edge and blockchain.
Cloud Consulting, Strategy & Implementation
Verudix Cloud modernization assists in seamless transition from legacy monolithic applications to free-up data & architectures migrated to micro-services based cloud architectures, leveraging enterprise cloud capabilities reducing costs, optimizing and achieving automation at all levels.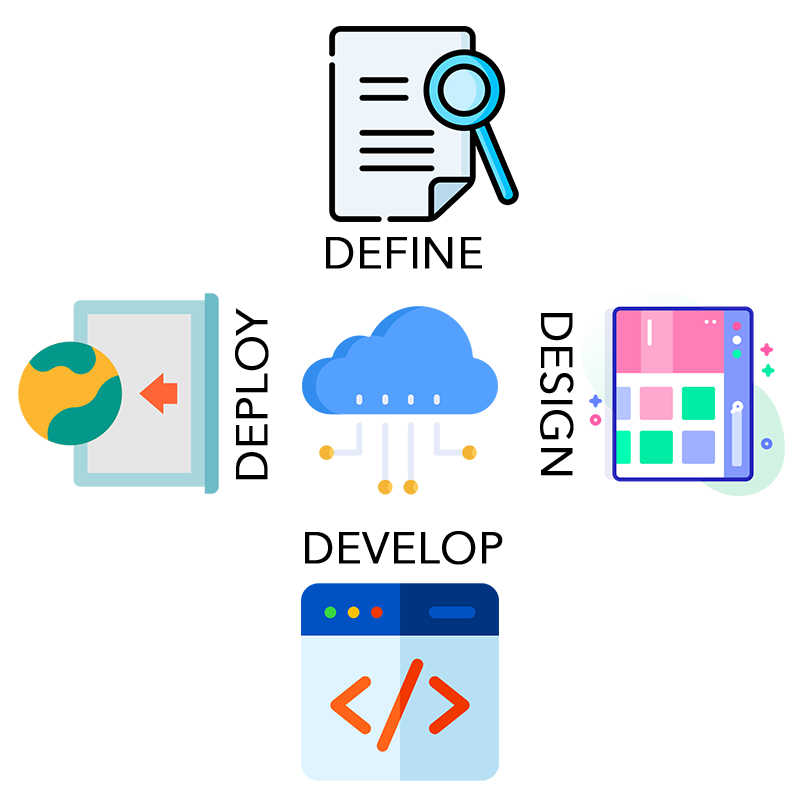 Discovery
We help clients develop a defined key drivers, business cases and actionable strategies in adopting cloud computing.
Assessments are performed against infrastructure, applications, security, development, audit & governance practices and your review future growth strategies.
A detailed strategy report will be developed with Analysis of Current vs. Future State and Recommendations, Vendor Selection strategies.
Journey
Cloud migration is a very crucial step and we are here to work with you at each step to develop a successful process with focus on least disruption to your current operations.
A carefully planned & orchestrated strategy of data migration with focus on retention (& archiving, if needed), hosting with scalability & cost considerations.
Strategies can be from Lift & Shift to Develop & Deploy are all carefully planned to minimize downtime and maximize efficiency & Uptime.
Organize
Expert architecture with focus on ensuring adherence to industry best practices in security, reliability, efficiency and scalability will be the foundation of Verudix cloud services
A well planned & implemented solution with cost optimization, zero downtime and adopting best practices of DevOps to CI/CD deployment, increased data quality, and quicker feature releases.
Innovate
Cloud enablement unleashes your organization's innovation capabilities.
Many organizations find cloud journey allows them to find new insights into their data, capture & process more data.
Adoption of DevOps & MLOPs is made easy, thus businesses can leverage quicker development using CI/CD, rapid deployment & continuous feedback loops making the entire data engineering process very efficient.
Development & Infrastructure teams are freed-up in managing multiple systems maintenance and scaling issues and empowered to spin new business solutions & prototypes faster speeds.